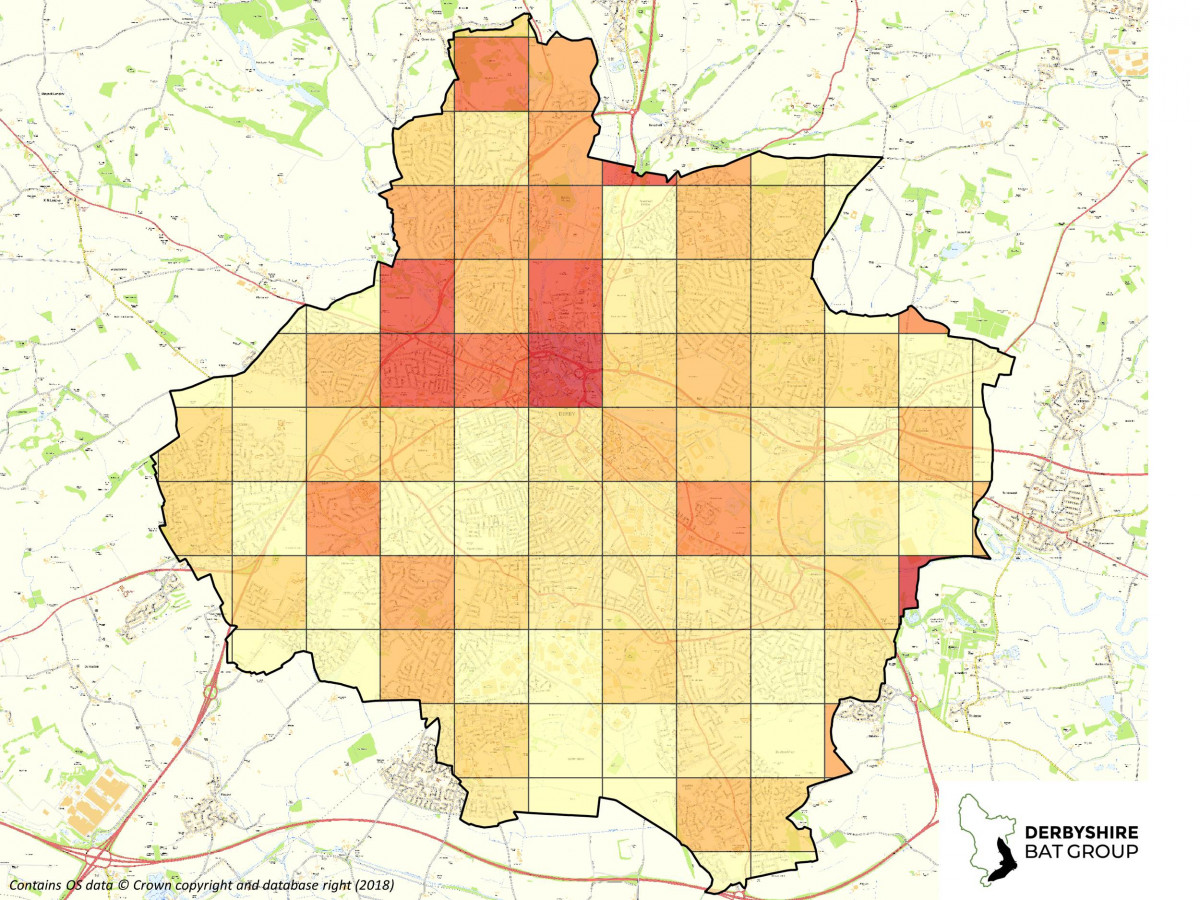 Derbyshire bat group can confirm that bats have now been recorded in every corner of Derby City. An amazing ten different species of bat have been recorded totalling 554 records across the 106 square kilometres.
The last few areas which had no bat records to date were surveyed by members of the voluntary organisation in 2017 and 2018 using ultrasonic bat detectors. All British bats echolocate using ultrasound and bat conservationists use handheld detectors to listen to these calls to help identify which species they are listening to.
Twelve different species of bat are found in Derbyshire and so for Derby to have ten of these species in an urban environment is amazing. Even the rarer Nathusius' pipistrelle of which there are only a few records across the UK was recorded at Oakwood. The River Derwent flowing through the City is home to Daubenton's bats which forage on insects just above the surface of the water whilst Markeaton Park provides ideal habitat for the largest of Derbyshire's bats, the noctule and serotine bats which are both about the size of a swift. The most common bat found in the City is the common pipistrelle. Just one of these little bats (which can fit inside a small matchbox with its wings closed) needs to eat the equivalent of 3000 midges each evening to survive!
Vice-Chair Steve Roe said "Derby residents are welcoming their local bats with open arms because they are starting to realise they are fantastic pest controllers. They help keep the numbers of annoying insects such as mosquitoes in control so next time you see bats flitting about in your garden, remember they are hoovering up hundreds of insects each night. People can encourage bats into their gardens by providing a bat box and by planting night-scented flowers to attract night-flying insects which will in turn attract bats".
A large number of records collected over the last years are from members of the public who have found an injured bat and have called the group's voluntary bat carers for assistance. Anyone who finds an injured bat should call the national bat helpline run by the Bat Conservation Trust on 0345 1300 228. This is exactly what Derby Royal Infirmary staff did when they discovered a grounded Brandt's bat hanging on its wall. The bat group cared for the insectivorous mammal until it was healthy and released it outside the hospital a few days later where it flew back into the night!
The charity is keen for members of the public to report sightings of bats across
Derbyshire these can be submitted on the group's website www.derbyshirebats.org.uk very easily. The group runs a number of bat walks each summer where the public can use bat detectors and listen to the secret world of these night-time creatures.
---