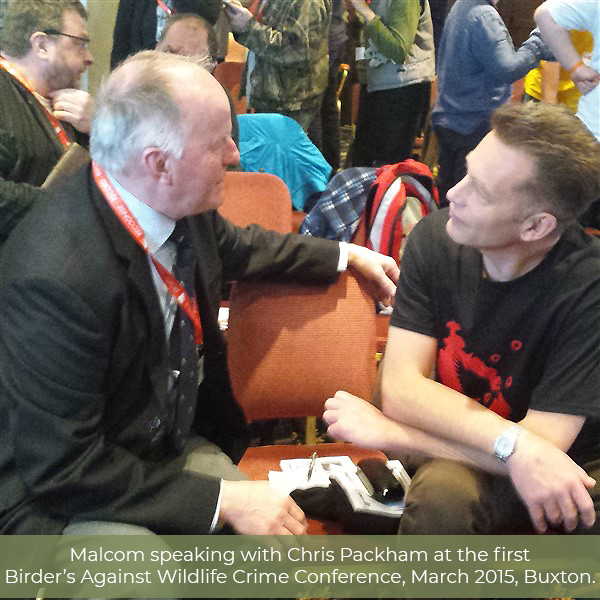 It is with much sadness that we write to inform you of the death of Derbyshire Bat Group founder member Malcolm Hopton, who died on Thursday 12th November from COVID-19. Committee member Alan Wragg has written the following tribute:

"As bat group members, many of you may have had the pleasure of knowing Malcolm Hopton, who was one of the joint founder members of Derbyshire Bat Conservation Group, which was formed as part of Derbyshire Wildlife Trust (DWT) in 1984.

I first met Malcolm in July 1990, when he and co-founder Roy Branson led a bat walk at Church Wilne. During the evening with their guidance, we noted 19 Noctules flying near the M1 and there was no turning back for me. The bat group was struggling, but a plea from Malcolm galvanised several of us into joining.

Malcolm was the Senior Biochemist at The City Hospital and he rescued a wide range of species on the site over his time there. He was a key member of DWT, holding various committee posts and was volunteer warden at Hilton Gravel Pits. When the new A50 skimmed the edge of the reserve, he calmly and correctly said it wouldn't have too much impact. Bat boxes on the site were initially ignored, but a later scheme which he set up soon attracted bats. The site has four species, including a Natterer's colony. When birds began to out-compete bats for use of the bat boxes, he added bird boxes and rectified the problem.

The bat group separated from DWT in 1994 and Malcolm took several roles including Treasurer and Recorder and was a Trustee when the group got charity status in 2010. In 2016 Malcolm stepped down from the DBCG committee but remained at active member of the group, giving presentations and acting as an advisor to the committee when his experience was required.

Malcolm was also very active in Derbyshire Ornithological Society, where he had been a member for 30 years, and was Treasurer for several years. I had the pleasure of being part of a "Bird Race" team with Malcolm from 1991. Four of us would spend up to 24 hours trying to see as many bird species as possible within the county border. The event quickly became a highlight of the year. Spending that time with Malcolm allowed me to appreciate both his bird watching skills and his sense of humour. Group member Dave Richardson was Malcolm's best mate and the two often bird watched together, taking trips abroad as well as locally.

Malcolm's death is a huge loss to conservation in Derbyshire. Our thoughts are with his wife, family and friends.

Thank you Malc, for being a good man and a good friend".
---